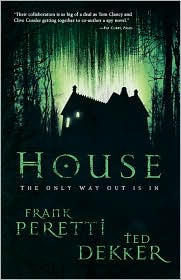 I loved reading.
Up until probably my college years, I was always in the middle of a book. Even when I was in grade school, I remember pulling the sheets over my head and reading with a flashlight when I was supposed to be sleeping.
I still love a good book, but only in the past few months have I realized it's not a lack of time that's stopping me from being the avid reader I used to be.
Most nights I'm curled up on the couch next to Doug watching "reality" TV shows. Not the "get a group of people together and pit them against each other and watch the madness ensue" type of reality. I mean "Dirty Jobs," "Ice Road Truckers," "American Loggers," "Wrecked" (tow trucks), "Deadliest Catch" (fishing/crabbing in the Bering Sea).
I don't mind them for the most part, but some days I'm just not in the mood to watch someone else work, if I'm even in the mood to watch TV at all. So I've taken to reading, even though
Doug gives me a hard time (in a joking way).
A perfect solution, I thought.
The problem is that once a book pulls me in, I can't read just a few chapters a night. For example, I checked out "House" on Tuesday afternoon and read the first two or three chapters that night. But by the time we went to bed on Wednesday, I was slightly over halfway, and by the time Doug got home from work on Thursday I was finished. This was a 372 page book, granted I enjoyed that the pages had decent size type and spacing between the lines that made it easier and faster to read.
But, I didn't get much (if anything) done on Thursday, because I just HAD to finish it. Henry loved it because I finally let him play in the car again, and for over an hour, while I finished the book in the passenger seat.
So now I will force myself to return this book without checking out another, because getting wrapped up in the world of a book is fun, but my real world could use some attention for a while.
Here's to reading and good books. What good books have you read lately?